Roof Coating Applications
Metal Roof & Single Ply Roof Coating
J. Mason Contracting specializes in both metal roof applications and flat roof coating systems that are energy efficient, stop leaks, extend roof life and more.
BEFORE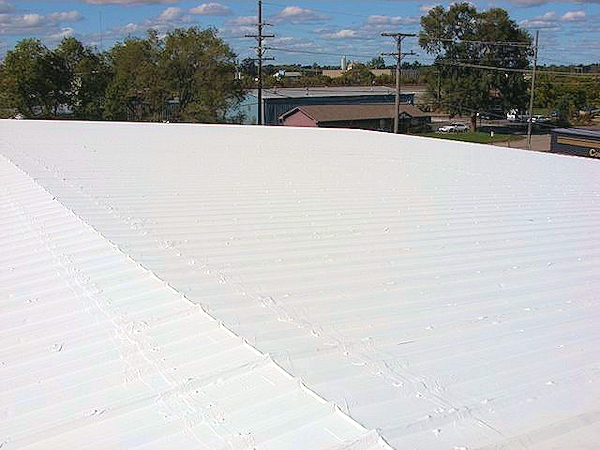 AFTER
Select from the options below.
Metal Roof Coating

Metal Roof System (MR System)

The Metal Roof System has a tough, long lasting shield that includes surface preparation and priming, caulking all screw heads and other small openings, reinforcing the seams with Spunflex polyester fabric or Butyl tape, application of our elastmeric coating over the treated seams and openings, and a final white, 89% reflective top-coat over the entire roof that will give you a seamless waterproof membrane.

System Application

Etching and Powerwashing
Surface Primer
Caulking Fasteners
Seam Treatment
Finish Coat

Advantages

Stops Leaks
Stops Rust
Keeps Building Cool
Reduces Thermal Movement
Extends Roof Life
Fully Sustainable

---
Single Ply Roof Coating

Single Ply Recoating System (Membrane) PDM, TPO, PCV

The average EPDM roof reflects five to six percent of the solar energy away from the surface, while our elastomeric coatings reflect 89% of the sun's energy away from the roof's surface. It is not unusual for a cool roof to lower roof top temperatures by 30 to 50 degrees!

System Application

Surface Cleaner
Surface Primer
Seam Treatment
Reflective Top Coat

Advantages

Stops Leaks
Lowers Roof Temperature
No Tear Off
Extends Roof Life
Fully Sustainable

---
Need More Information?
We are here to serve you with all your pole barn and garage construction needs. If you have any questions or need additional information, call (517) 592-3001 or send an email to jon@jmasoncontracting.com. We are confident that we can build the structure you are hoping for.